Our environmental commitment
Environmentally conscious production goes without saying for us. Therefore, we encourage sustainable measures that reduce the use of resources and materials. We only use suppliers who live up to our own requirements for recycling at all levels. Our commitment to sustainability is found in everything we do.
---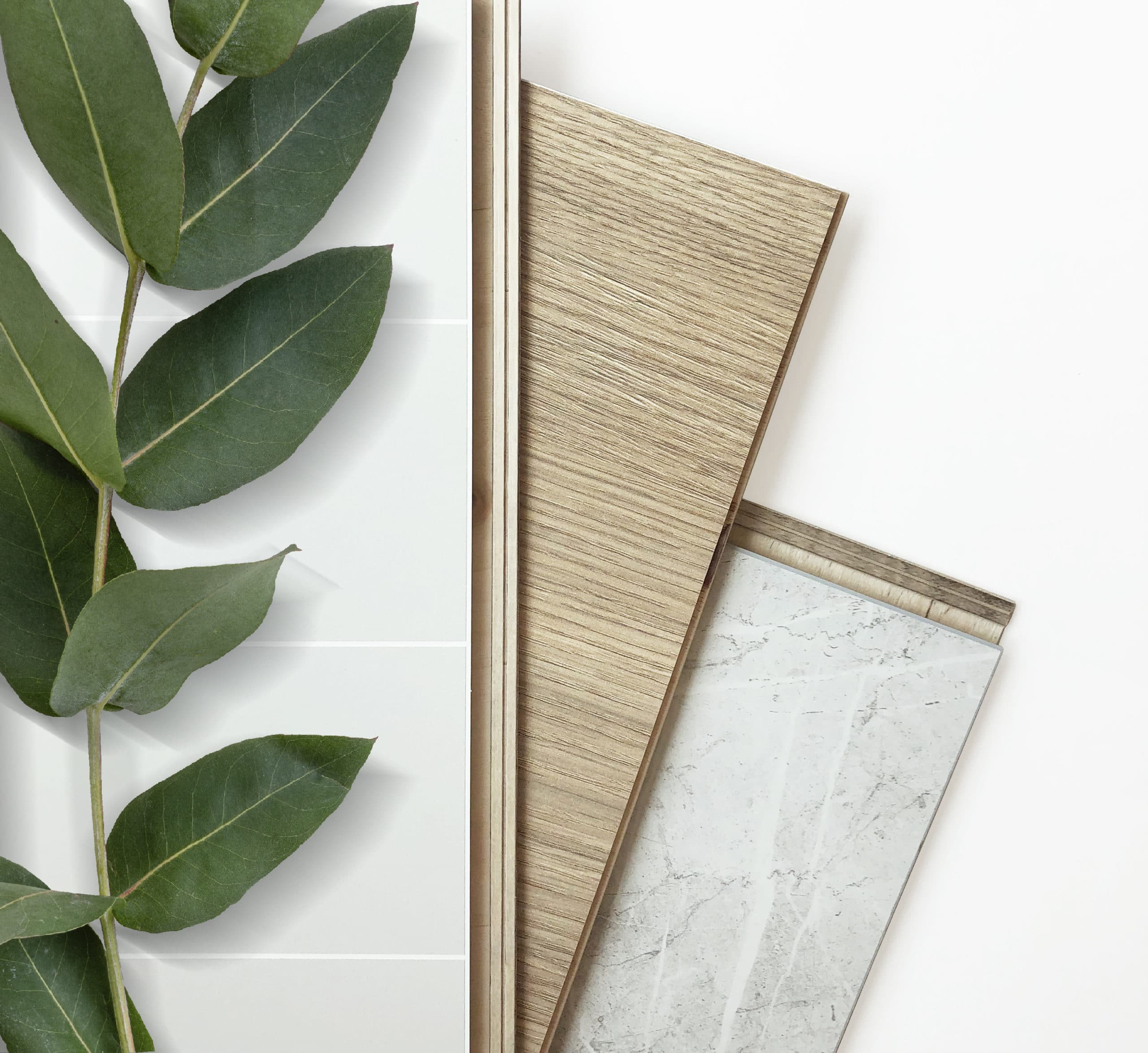 Renewable sustainability
Fibo wall panel are made of certified and renewable wood, comes with its own EPD and can contribute to gain extra points for construction projects that are to be environmentally certified according to LEED.
Wood is a renewable resource that stores carbon even when in use in products. Fibo wall panel is made of PEFC-certified woods that ensure sustainable forestry, and comes with its own EPD (Environmental Product Declaration) which documents the environmental calculation for both the raw material and the production. In our annual ESG report, you can also follow how we work for reduced energy use, better waste management and circular economy.
LEED-points
LEED (Leadership in Energy and Environmental Design) is an internationally recognized green building certification system, which verifies that a building was designed to improve performance across metrics such as energy savings, water efficiency, CO2 emissions reduction, improved indoor environmental quality, and stewardship of resources. LEED also offers building owners and operators a concise framework for identifying and implementing practical and measurable green building design, construction, operations, and maintenance solutions."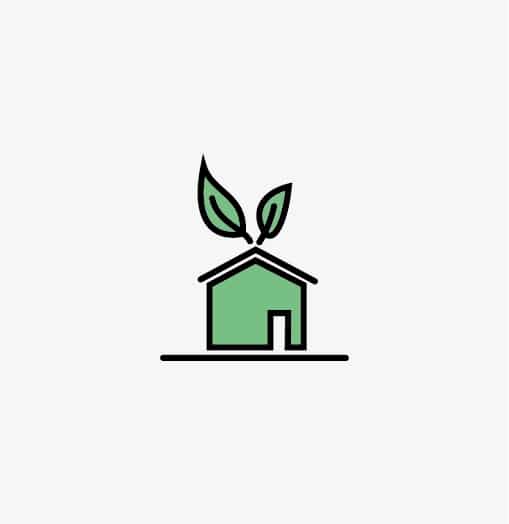 Healthier living and working conditions
Fibo has been assessed in relation to health and the environment in several areas and the products have been registered in several of the Scandinavian environmental databases.
• Sintef Technical Approval
• Eco product assessment
• Nordic Ecolabelling Portal
• Basta Online
• SundaHus environmental data assessment
Environmental declaration
Fibo has an EPD, (Environmental Product Declaration). An EPD is an independent, verified environmental declaration that provides consumers with comparable information on the environmental impact of different products in a life cycle perspective. The EPD is based on the principles and rules that apply in the international standard ISO 14025, and has broad international acceptance. Fibo's EPD can also be used by building contractors when new buildings are to be certified in accordance with BREEAM.
CO2 emissions
At Fibo, we focus on producing products with sustainability and a focus on the environment. We are committed to reducing our environmental impact throughout the value chain and therefore work continuously to reduce emissions and energy consumption. We have invested NOK 140 million in new machines and new equipment to improve efficiency and at the same time reduce our total energy needs.
In 2017, we completed a major rebuild and replacement of production equipment that provides energy savings per square meter with increased production volume. At the same time, we improved the logistics at the plant so that the materials could be transported shorter than before. At Fibo, we work continuously with both the whole and specific details to improve our processes and reduce the environmental impact.
Easy installation

Five times quicker than tiles

Safe and approved

Download technical documentation

Ecofriendly wallsystem

Low emissions to the higher level
What they say!
The Fibo system has been very well received by our customers. We are very optimistic about using Fibo in future projects.

ESTEC GmbH & Co
Our three criterias for kitchen panels: Rapid assembly, easy cleaning and that they can withstand a blow or two.

Trondheim Student Housing
The possibility to choose among colours from Fibo's Colour Collection gave life to the rooms in the project.

Faber Bygg AS
Frequently asked questions
For installation on masonry/concrete walls above ground, use the following solution: Make sure the concrete is dried out and has a maximum moisture level of 85% when mounting. The substrate must be level and provide good attachment possibilities for nails and screws where the panels meet. Remember, where you hang up washbasins or other heavy objects, there must be extra reinforcement.
Forget about the moisture barrier, primer, fix and joints. Fibo panels have an integrated moisture barrier and you can mount the panels directly on the wall framework.
Fibo cannot easily be mounted directly on tiles. If there is an outer wall or wall against cold rooms, there must not be a double-vapor barrier according to Norwegian research institute SINTEF's building studies results. Because Fibo panels are approved as a vapor barrier, the old vapor barrier must be removed behind the panels.
You can mount Fibo on drywall. With two layers of 0.5-inch drywall, you don't need horizontal cross sections between the studs. Remember to use screws long enough to go through the drywall and into the studs for secure attachment.
Fibo must be stored lying on a flat surface at room temperature for three days before installation. In addition, Fibo must always be stored lying on a flat surface so that the packaging remains unbroken. The material must be acclimated to the new environment for three days.
Everything you need to know is in our installation instructions. It pays to prepare well in advance!
Fibo is both easier and faster to install than laying tiles. It's also cheaper. You can either assemble yourself or get help from a craftsman. Proceed carefully, follow our installation instructions, take a picture showing where the joints are, overlap the membrane and use the checklist we provide to help document the installation. This way you get a great result with a 15-year warranty. If you are unsure how to assemble, contact our customer service center or use a craftsman.
If you plan to mount bathroom fittings, a washbasin, faucet, wall-mounted toilet or other bathroom furniture on the panel, you need to install, for example, a 0.5-inch thick sheet of plywood behind it. You can, of course, attach the decor to studs behind the wall.
Fibo Seal is specially developed for our panels and is ETAG 022 approved. Fibo Seal is also supplied in the same colors as the joints on the panels. Do not use silicone, only MS polymer sealant approved according to SINTEF TG 2289.
You should use about 14 screws per sheet (installed at approx. 8-inch intervals) and some 12 screws per inner corner. The rule of thumb is one package of screws for five packs of panels (one pack contains two panels). Fibo Seal lasts for approx. 20 running meters per tube. The rule of thumb is one tube of Fibo Seal for three packs of panels.
It is easy to keep Fibo clean – and you avoid all the dirt that tends to stick to tile grout. Use a clean cloth and warm water. For stubborn dirt, you can use a non-abrasive cleaner. You will find more information in our maintenance instructions.
Measure the total length of the walls, including windows and doors. Then divide the total length of the walls by 0.6. The sum is the number of panels you need. Each package contains two panels. Remember accessories!
You can use Fibo behind normal electric ovens and induction units that do not radiate more than 80 °C (176 °F) towards the back wall. If you have a gas oven or woodstove that produces higher temperatures, do not use Fibo without a flame-resistant material on the back wall.
Fibo can be used in most rooms, but there are exceptions. Like swimming pools and saunas. On the other hand, Fibo is excellent for changing rooms, showers and other spaces adjacent to saunas and swimming pools.
Yes, Fibo is approved for all wet room zones, for example, in the bathroom shower. This is due to the membrane in the sealing layer. Our panels are excellent in all wet rooms, but also where extra-durable walls are needed, like in hallways, garages or laundry rooms. Fibo Kitchen Board is built the same way and also waterproof.
Many of our panel models are delivered in 10-foot heights. If the model you choose cannot be found in the desired height, we have a list you can use to add the wanted height to Fibo.
Yes! Our panels are certified by Norwegian research institute, Sintef.
Since Fibo panels are drawn 2.4 -3 inches above the floor, the structure behind must withstand fire resistance. See SINTEF building detail 520.322.
Our warranty covers normal household use and includes water resistance, color fastness and stain resistance. The guarantee does not apply in the event of incorrect installation, accidental or incorrect use, structural movement or incorrect maintenance, like using an abrasive cleaning agent. The warranty only covers the rights described here. Indirect damage is not covered.
Why choose Fibo?
Fibo wall panel has been developed to make installation simple and cost-effective for our customers. The wall system can be installed up to five times faster than tiles. The panels can be attached to wooden or steel studs, or directly to the existing wall.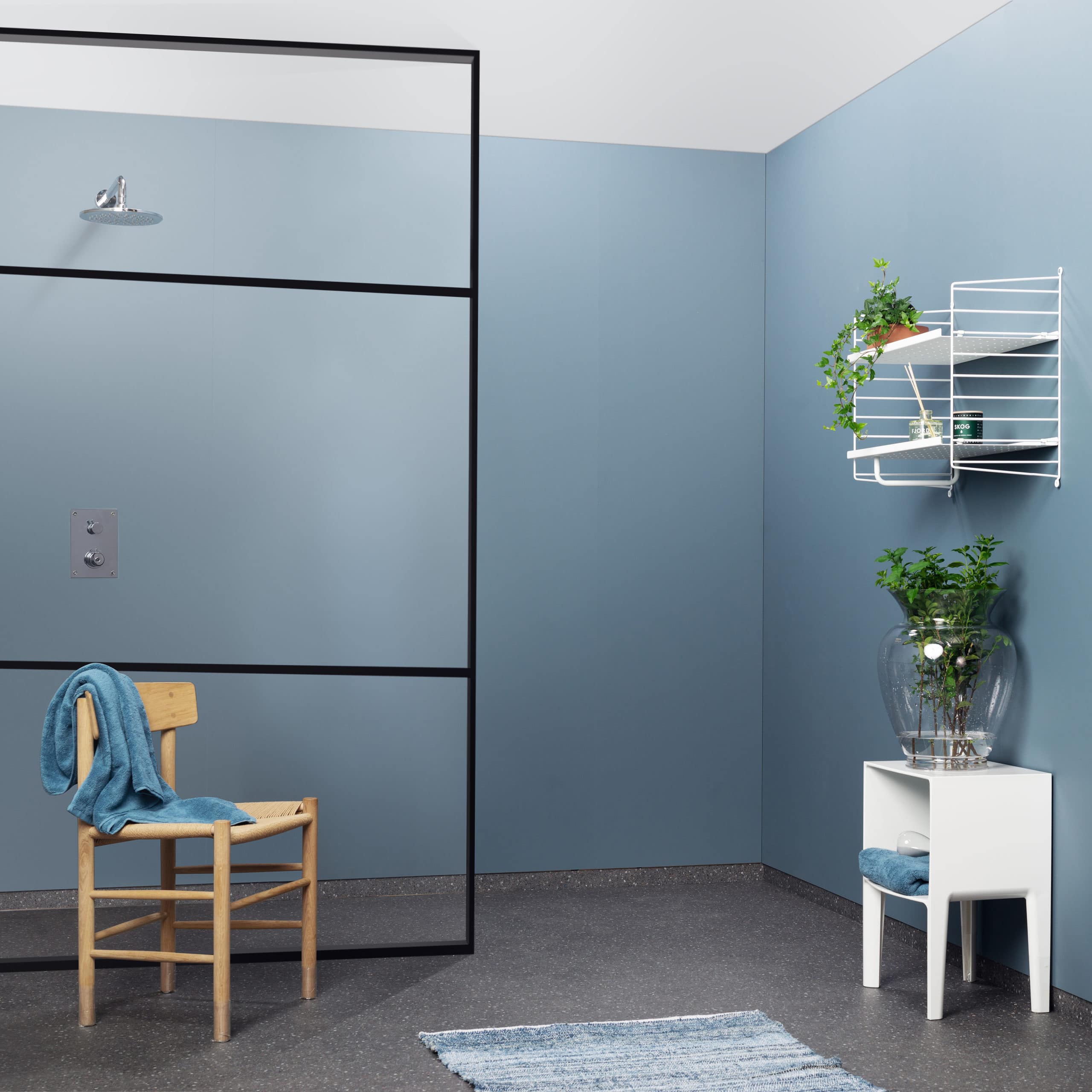 Easy installation

Fem ganger raskere enn flis

Safe and approved system

Last ned teknisk dokumentasjon

Eco-friendly solution

Med mål om bærekraftig skogsdrift