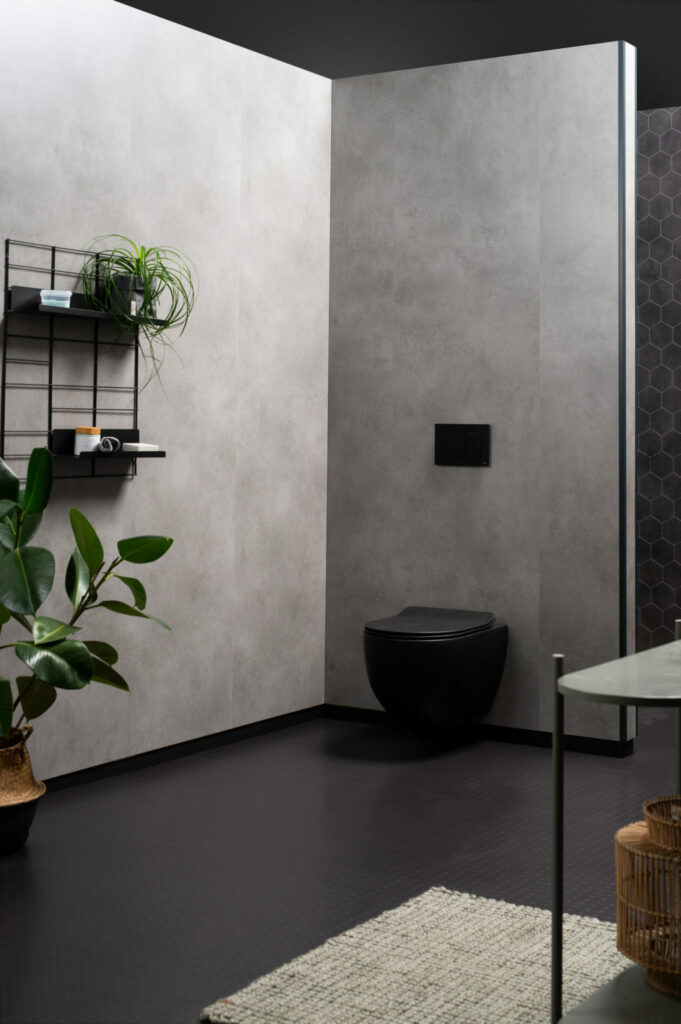 The Latest Trends in Bathroom Design

In this blog, Nicola Lewis, our Marketing Manager, takes a look at the latest trends in bathroom design and explores how wall panels can help to achieve your desired style and aesthetic.
---
A bathroom renovation can make a big difference in a home or even in a hospitality setting such as hotels, but choosing a brand-new look isn't always easy. Whether redesigning or renovating, it's important to consider all bathroom design trends and to present all of the options to your customer – and of course, the final choice will be down to personal taste. Achieving the desired design outcome can be done with the help of waterproof wall panels, as with over 80 different colours, design and texture options available, you can help your customer to create their dream space.
BRINGING THE OUTSIDE IN
Last year was largely spent indoors, and so bringing the outdoors in has become a key way to embrace natural features, enhance wellbeing and create a spa-like feel in the bathroom. The focus on mindfulness and relaxation has led to the notion of creating a connection between the natural world and our interiors, with the addition of plenty of luscious greenery and making use of natural light in the bathroom.
Integrating indirect elements such as materials, textures, patterns, shapes and colours that mimic nature can also contribute to bringing the outside in, whether that is in the form of textiles, artwork, furniture or fixtures. Natural materials can create a warm atmosphere while simultaneously, being stylish and elegant. We have a whole host of wood, stone and marble effect wall panels that can help you to achieve this aesthetic.
MINAMALISTIC MOOD
For those that are a fan of the concept "less is more", minimalist design continues to prove popular and when done correctly, can dramatically maximise impact. Crisp, clean and fuss-free, creating the perfect bathroom requires a combination of form and function, space and aesthetics. With shades of white, beige, black and grey commonly used, brighter colours can actually make the bathroom look larger and brighter.
The Scandinavian Tile Effect collection reflects our Norwegian heritage with clean lines and smart tile effects, where the realistic grout lines on all of our wall panels are achieved using a routering method. Available decors in this collection includes Sahara, Shabby Chic and Golden Brown Marble. When combined with accentuated fixtures, fittings and accessories, the designs in this range will help to achieve that in demand minimalist and timeless interior.
INDUSTRIAL AESTHETIC
The industrial design philosophy originated in New York in the 1950s, as former factories and warehouses were converted into more domestic settings. Making use of the original features, including bare brick walls, lighting and heating, this industrial style has swiftly made its way into inspiring kitchens and bathroom design – particularly in recent times. Industrial styled bathrooms are simple, functional spaces where raw materials and tough fixtures and fittings take centre stage.
To achieve the industrial aesthetic, the Metro Brick design, which is part of our Urban Collection, uses the routering method to create a 3D tile-effect pattern, to mimic the effect of staggered 300 x 100mm brickwork. The range is inspired by the tiling found in classic underground stations in the 19th century and is perfect for projects that want to achieve this style. Colours for industrial bathrooms usually feature shades of grey, black and white, as well as saturated colours.
MAKE A STATEMENT
One simple way to rejuvenate a bathroom interior – and has proved popular for many years – is to create a feature wall. This will set the scene for the rest of the bathroom and can act as the backdrop for a well-lit bathroom mirror and sink or even a standing shower.
The traditional herringbone pattern has made a big comeback in recent years and for those that want to create a feature wall using our new versatile and timeless Herringbone design from the Urban Collection, you will be able to add character to any room. For spaces that want to create a bolder statement, the new Hexagonal design features a playful pattern of geometric shapes.
WHY TILE, WHEN YOU CAN FIBO?
The beauty of our wall panels is that they offer the appearance and realism of grout lines, but without the regular upkeep that grout usually requires in order to prevent it from becoming worn, stained and unhygienic. Waterproof wall panels are also significantly easier to clean and maintain, and when fitted together, the panels have a virtually invisible joint, making them a beautiful and practical alternative to tiles in bathrooms and kitchens.
To learn about our wide range of wall panels that will meet the design requirements of your next bathroom project, get in touch with us today. Or to find out more about our new Urban Collection, visit https://fibo.co.uk/bathroom/the-new-urban-collection/