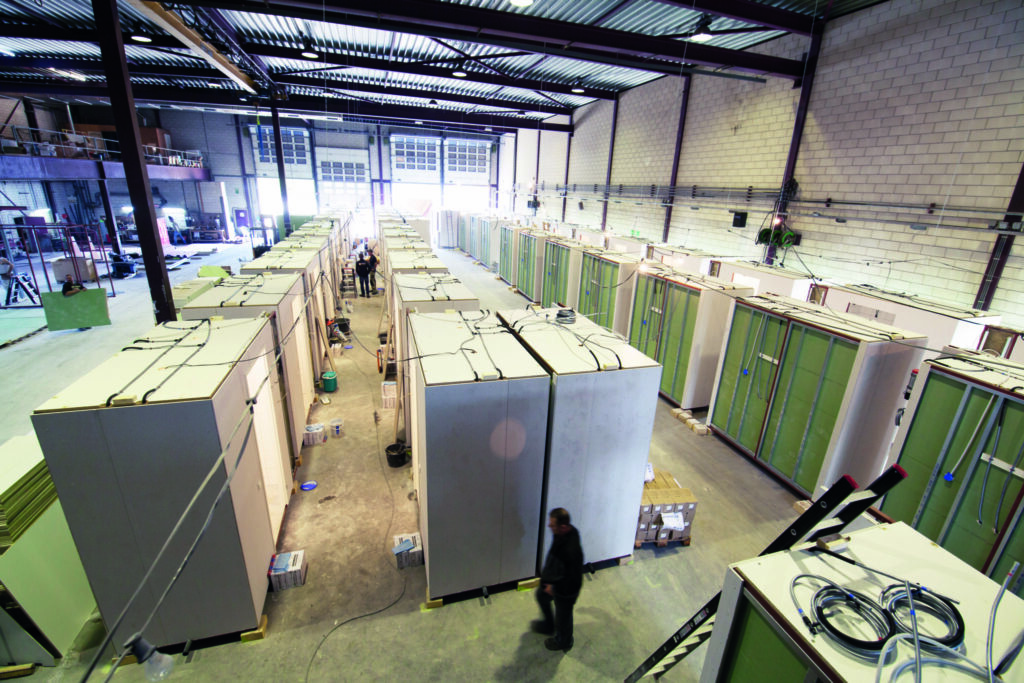 Fibo Wall Panels – Made for Modular?

In this blog, we talk all about modular construction and how waterproof wall panels could be a perfect piece of the modular jigsaw.
---
Frequently heralded as being the future of the industry, Offsite Construction is a topic on everyone's lips. Given this increased investment in offsite and modular construction techniques, developers, contractors and specifiers are looking for products, materials and solutions that match this new way of building.
When it comes to bathrooms and kitchens, tiling is often seen as the 'go-to' method – in fact, it may be assumed to be the only viable option. However, wall panel systems can provide an ideal alternative, perfectly matched for the offsite methodology.
Engineered for speed
One of the biggest, and most talked about, benefits of offsite and volumetric construction is the time savings, with buildings able to be erected at a far faster rate than traditional methods. As a result of this speed, you need interior fit-out products that can be installed just as quickly and easily – otherwise you risk losing these time efficiencies along the way.
In this case, high-quality laminate wall panels are perhaps the perfect choice, as they can be installed up to five times faster than tiles – an impressive time saving! Part of this is thanks to the ease of installation, with no wall preparation required. Instead, our range of wall panels can be fitted directly onto wooden or steel studs, or glued onto the wall itself. Being made from birch plywood, they require only standard carpentry tools to cut and install, and even the standard size panel covers the full height of most bathrooms, meaning that large wall areas can be completed quickly.
All of this means that the bathroom and kitchen "pods" can be fitted and finished quicker, saving time and money in the manufacturing process.
Durability
As the name Offsite suggests, a common factor in these modern construction methods is that the primary structure or volumetric pods will be manufactured away from the main site, in a controlled factory environment, before being delivered to site and lifted into its final position. As a result, you need building products that will survive this journey from factory to site.
Here, wall panels are again an ideal solution, manufactured with a strong and robust birch plywood core, helping to eliminate post-delivery issues that may be experienced with traditional tiles. Broken or dislodged tiles in the bathroom and cracks in the kitchen wall finish are a common issue, one that can be both costly and time-consuming to fix once the modules have been delivered.
Style with substance
With any housing project, looks are important – and offsite builds are no different. If volumetric building methods are truly to become a thing of the future, ensuring that the quality and aesthetics are not affected is a must. Just because it is quick and efficient to construct doesn't mean it can look cheap or rushed on the inside.
Fortunately, wall panels are available in a wide array of styles, colours and effects, providing the modular market with unrivalled choice. At Fibo, we have an incredible 80 designs spread across six equally stunning collections to suit all styles and budgets, with everything from luxurious White Marble and contemporary Cracked Cement to the urban-inspired Metro Brick. We also offer a great selection of tile effect patterns, with the iconic grout-line routered in, providing the look and feel of tiles but with all the benefits of wall panels.
With modular and offsite methods set to be the future of the construction and housing market, it's important that you have the right products and solutions by your side, helping you to tackle this new age of construction head on.