All Fibo Wall Panels now Certified Antibacterial

Whether in a commercial or residential building, the hygiene and cleanliness of bathroom facilities are critical for a multitude of reasons. Here, Scott Beattie, our Managing Director at Fibo, explains how simple steps, like choosing the most appropriate interior building products, can help to improve hygiene levels within busy environments.
---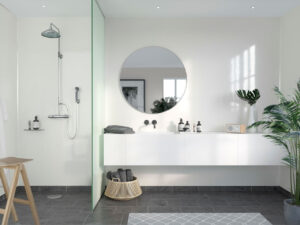 Maintaining a high standard of hygiene has become an increasingly important focus, particularly within schools, hospitals, social housing and other buildings where bathrooms and lavatories are shared by large numbers of people. Whilst surfaces may look clean, looks can be deceptive, and cross contamination can occur far too easily as a result of poor cleaning methods. What's more, the growth of bacteria can cause various infections, or even lead to pneumonia and other serious illnesses.
Therefore, bathroom cleanliness is essential, first and foremost, to protect the health and well being of a building's occupants. In healthcare environments, concerns surrounding hygiene are perhaps more critical as patients may be more vulnerable, making them susceptible to commonly transmitted infections. At home and in education settings, some of the bacteria lurking in the bathroom due to poor hygiene could lead to ill health and the spread of transferable diseases, and in the worst case, result in increased sick days and more people taking time off work and school.
To stop the spread of germs, building owners should inevitably concentrate their efforts on implementing proper and regular cleaning regimes. However, with so many people using the facilities, particularly those in public places, maintenance can be an exhausting task for operatives. One way to help with this is by looking at the materials that bathroom fixtures and finishes are made from and how they are constructed. Carefully choosing materials that reduce the number of hiding places for germs and bacteria will significantly aid cleaning and maintenance efforts.
Say Goodbye to Grout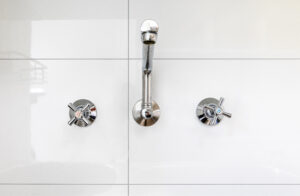 Tiled walls are notoriously difficult to clean properly. The main problem lies in the fact that dirt and grime gather and become trapped in porous grout lines, making it extremely tough to sanitise successfully. Sometimes stubborn grout stains will not come out with even the strongest acids and bleaches and over time, mould can develop, wearing the grout away and becoming a breeding ground for microbes and bacteria. This compromises the wall finish which in turn will require the cost of replacement for the building owner.
The good news is that there is a viable alternative. Wall panels are becoming increasingly popular in both commercial and residential environments thanks to them being completely grout free and impervious to water when correctly installed with a quality sealant. They're easy to maintain and available with a huge range of colours and finishes to meet every style and budget. It is now possible to achieve a wall finish that is highly functional, but still looks contemporary. Waterproof wall panels are typically manufactured from a strong layered wooden core and sealed between high-pressure laminate, with a moisture barrier to the reverse. They only require a strong sealant between the minimal joins to create a robust, watertight seal.
With the absence of grout and minimal joins, the installation of waterproof wall panels minimises the opportunity for bacteria to grow in bathrooms and lavatories. It will also make it incredibly easy for operatives to clean with a soft cloth and soapy water, or a non-abrasive liquid cleaner. For even further peace of mind, there are now products on the market that have been certified to prevent bacteria from growing on your wall panel surfaces, helping to control the spread of infection further.
Certified Antibacterial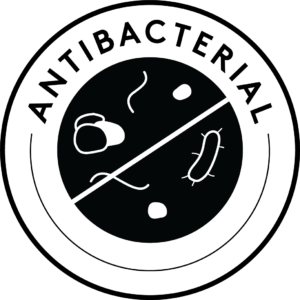 All our waterproof wall panels have recently been independently tested and verified in accordance with ISO 22196:2011; in addition to an assessment in accordance with the limit value stated in JIS Z 2801. This certification confirms that our wall panel surfaces are able to inhibit the growth of microorganisms that form E.coli and Staphylococcus aureus – bacteria that can cause various infections, or even lead to pneumonia and other serious illnesses.
Taking measures to keep bathrooms clean and hygienic not only stops the spread of germs and protects the health and wellbeing of building occupants, but also creates a more pleasant bathroom environment for users. With the help of waterproof wall panels that have been explicitly proven not to harbour bacteria, you can design beautiful, functional and hygienic bathrooms that contribute to minimising the risk and spread of viruses. A concern that will continue to be prevalent in today's society.
Download a copy of our test report from our Product Information page.