A Month on the Road

As normality is finally restored, the month of September was a busy one for us here at Team Fibo, as we were able to get back out on the road once again. We set up stands at a number of exhibitions across the UK, showcasing our beautiful waterproof wall panels to different customers. After 18 months of only being able to see our customers through a computer screen – it was certainly good to be back!
So, where did we go?
---
SelfBuild Live, Belfast
We kicked off September with the SelfBuild Live show in Belfast, where our Regional Account Managers Steve Walter and Matthew Delaney manned the stand to meet new and existing customers. The event was very busy and aimed at those building, extending, improving or simply decorating their home. Our waterproof wall panels proved popular with many. After all, who doesn't want a fuss-free, beautiful bathroom in their home?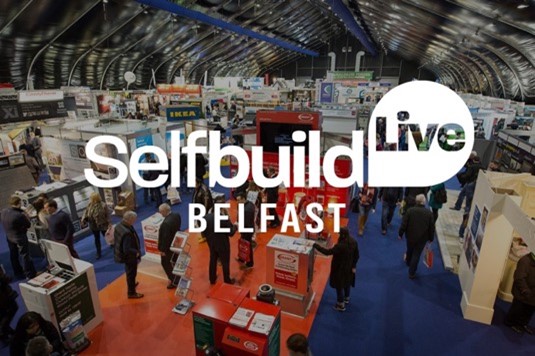 CIH's Housing 2021
In England, our team began the month venturing up north to Manchester for Housing 2021. Back and bigger than ever, the award-winning Chartered Institute of Housing's annual conference and Europe's leading housing festival was attended by local authorities, housing associations, key partners and suppliers, government, housebuilders and developers – offering the ideal hub for us to meet existing and perspective clients in this sector. Visitors were particularly impressed by the low maintenance of our panels, as well as the strikingly realistic grout lines on our tile effect panels – a win-win for their tenants!
Here's a picture of our Managing Director, Scott Beattie and Gary Hodgson, Sales Director on our impressive stand.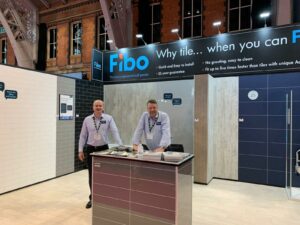 Offsite Expo
As offsite construction, which is frequently heralded as being the future of the whole industry, continues to grow, we then travelled to Coventry for the Offsite Expo to showcase why our wall panels are perfectly made for modular. Five times faster to install than tiles, and much more robust than ceramics. Our wall panels are engineered for speed – a critical factor in offsite construction where time is of the essence. Quick and easy to install, bathroom and kitchen 'pods' can be fitted and finished quicker, saving time, mess and money in the manufacturing process.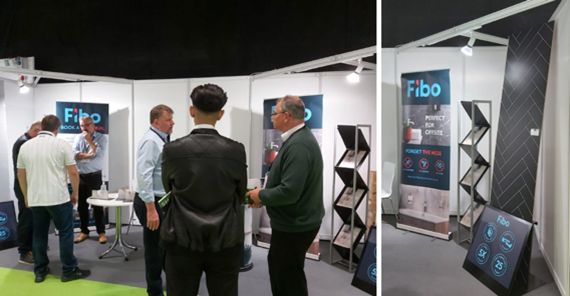 The Installer Show
And of course, we couldn't forget about the installers who are fitting our products day in, day out. To round off a busy month on the road, we headed to the premier heating and plumbing event, The Installer Show, in Coventry. Donning our favourite pair of sunglasses and flip flops, we had a great time at 'Gas-tonbury', where Fibo was one of the suppliers forming the festival line-up, 'headlined' by UK Plumbing Supplies. There were competitions and giveaways, and plenty of fun was had. We gave installation demonstrations live on our stand and visitors could see for themselves just how easy it is to fit our wall panels.
Phew! What a month! We had a great time at all of the exhibitions and really enjoyed meeting people again. To keep up to date with where we will be next make sure you follow us on our social media channels.